The Overflow Weir From Flottweg
The clarified liquid flows to the cylindrical end of the bowl in the decanter centrifuge, from where it runs out through openings in the bowl cover. These openings contain precisely adjustable weir discs/weir plates by means of which the pond depth in the bowl can be set. The clarified liquid runs out into the drain housing of the centrifuge without pressure. These precisely adjustable weir plates form the overflow weir of a Flottweg decanter centrifuge.
The overflow weir
When the weir plates are set up, they provide 40 different setting options. The weir plates are inserted on the hole circle diameter A or B. The values from the position of the eccentric discs are added to or subtracted from this hole circle diameter.
Flottweg weir plates and their setting
But to how are the weir plates set precisely to achieve the required result?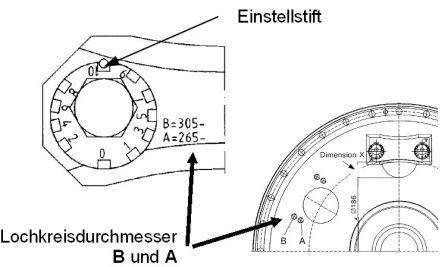 The weir plate is set up in hole circle B: This corresponds to a diameter of 305 mm; the eccentric discs are in position 10. As a result, the overflow weir has the following diameter: 305 – 10 = 295
The Flottweg overflow weir and its advantages
The overflow weir permits optimum adaptation to changing conditions
Flottweg weir plates for achieving perfect separation properties and the optimum product result
The Flottweg overflow weir for precise and variable setting of the pond depth (by changing the diameter)
Simple and uncomplicated setting of the weir discs/weir plates (because there is no need to remove system parts)