Surimi Manufacture Using The Decanter
The manufacture of surimi involves washing a minced fish filet in a two or three-stage process. Impurities such as blood and fat are removed in this process. Normally, a rotating screen provides superficial cleaning of the wash water.
In conventional production of surimi, screw presses dewater the minced fish meat. Then it is treated with anti-freezing agents before being deep frozen.
This manufacturing process for surimi offers numerous disadvantages:
High losses of meat fibres during the various stages of washing and in the screw press
Significant wash water consumption
High space requirement for the systems
Easy perishability of the raw material
Flottweg decanters are the solution to all these problems. In the production of surimi, decanters can be used for recovering the meat fibres from the wash water and/or as a replacement for the screw presses. This significantly increases the yield of surimi during the manufacturing processes.
The Flottweg decanter offers numerous advantages in the production of surimi:
Up to 50% higher overall yield compared to conventional surimi manufacture for fibre recovery from the wash water or replacement of the screw press
Consistent residual moisture in the end product because of the patented Flottweg Simp-Drive®
Reduction in operating costs because the manufacturing process for surimi is fully automatic
High flexibility in order to meet different market requirements
Ease of operation, even with fish species that are difficult to process
Cleaning programs for optimum CIP cleaning
Careful product processing leads to very low product heating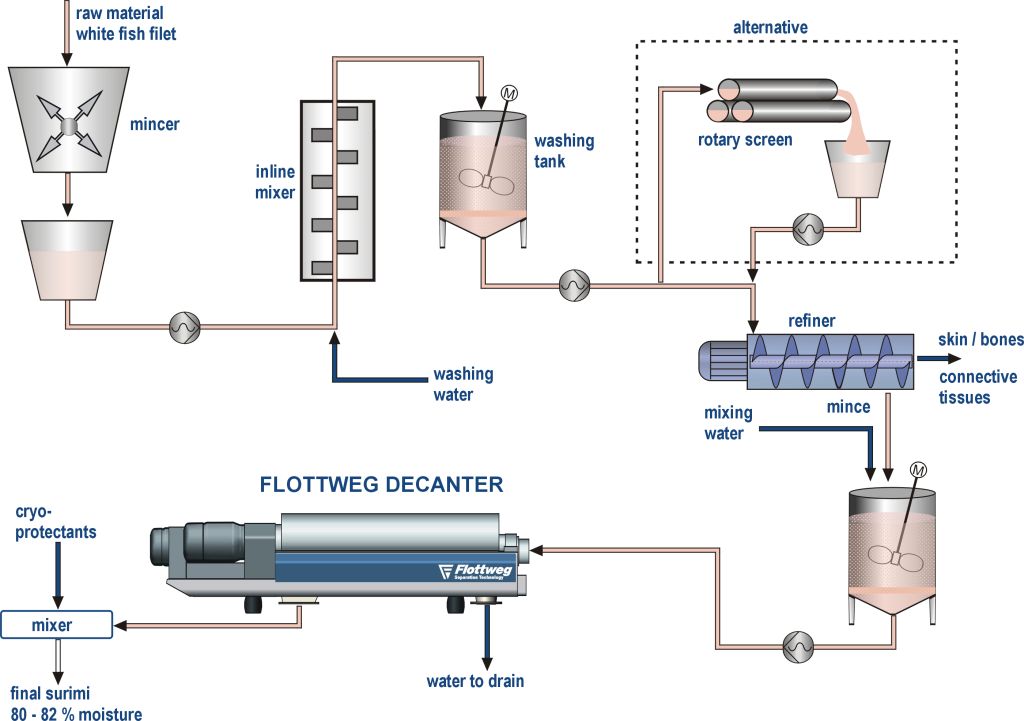 Flottweg – your partner for surimi manufacture
Flottweg knows the exacting requirements of the fish industry. We have more than 50 years of experience in separation technology, and are specialists in the manufacture of surimi. Take advantage of our knowledge, experience and expertise:
Hygienic design: All components that do not come into contact with the product are made from corrosion-resistant stainless steel, and meet the most exacting hygiene standards
Individual support: We find the right solution for your process, and deliver individual machines or complete systems according to your requirement
ISO certification: Flottweg is certified to ISO 9001 and builds its products according to the latest technical standards
Made in Germany: All Flottweg decanters are produced in Germany by specialist technician